Drób
Odżywianie jednodniowych piskląt jest niezbędne do uzyskania dobrych wyników zootechnicznych i ekonomicznych. Dostarczenie odpowiednich składników odżywczych, które uzupełniają pozostałość woreczka żółtkowego, pozwala na prawidłowy rozwój jelita na wczesnym etapie rozwoju. Jest to pierwsza linia obrony pisklęcia przed czynnikami chorobotwórczymi, decydująca o jego przyszłej wydajności paszowej.
Twój ekspert Earlyfeed
Stefan Alius
Kontakt został zasugerowany w oparciu o lokalizację wyszukiwania. Oczywiście możesz również skorzystać z naszych innych kontaktów i lokalizacji. 
Nie ma czegoś takiego jak "za wcześnie"
Jeśli chcesz zapewnić swoim pisklętom odpowiedni rozwój fizyczny, musisz jak najszybciej podjąć odpowiednie kroki. Może się zdarzyć, że na pewne działania będzie za późno. Zarówno badania naukowe, jak i doświadczenia w terenie nauczyły nas, że pierwsze 24 do 72 godzin życia pisklęcia w dużej mierze określają jego późniejszą wydajność. Chociaż natura dostarcza pisklęciu składników odżywczych w postaci pozostałości woreczka żółtkowego, zadaniem tej naturalnej rezerwy jest jedynie zapobieganie głodowaniu. To nie wystarczy do przygotowania młodego ptaka do przetrwania i rozwoju w wymagającym środowisku produkcyjnym komercyjnej fermy drobiu.
Odrobina życzliwej pomocy
Dobra wiadomość: dość duża liczba piskląt (prawdopodobnie większa niż myślisz) może przetrwać pomimo czynników stresowych występujących na wczesnym etapie rozwoju. Potrzebują jedynie odrobiny pomocy. Koncepcje żywienia jednodniowych piskląt marki Earlyfeed zostały starannie opracowane, aby zharmonizować potrzeby młodego ptaka z wymaganiami cyklu życia.
Przy odpowiednim zastosowaniu nasze rozwiązania powodują szybkie i stabilne spożycie paszy oraz płynne przejście od wykorzystania woreczka żółtkowego do spożywania paszy. Skład odżywczy pozwala na szybki i zrównoważony rozwój jelit bez nadmiernego obciążania przewodu pokarmowego i z zachowaniem stabilności mikroflory u młodych zwierząt. Ostateczny cel: młode ptaki spożywające paszę samodzielnie tak szybko, jak to możliwe, co pozwala na osiągnięcie wysokich wyników w całym cyklu życia.
"Ptak osiągnie swój potencjał genetyczny, tylko wtedy gdy będziemy wspierać rozwój jego narządów wewnętrznych od pierwszych dni jego życia"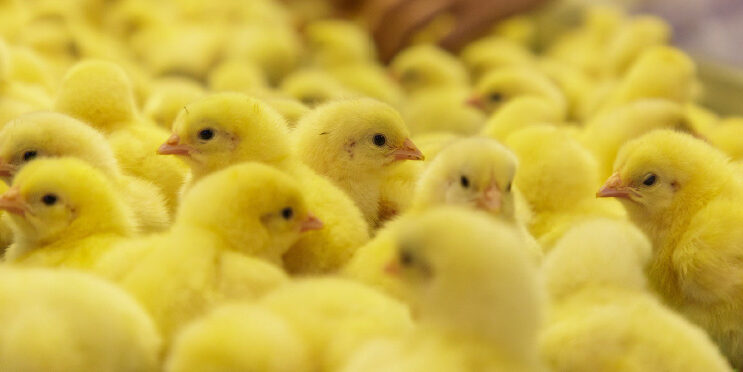 Zbilansowane żywienie młodych zwierząt
Opracowanie strategii zrównoważonego żywienia na wczesnym etapie cyklu produkcyjnego, jest opłacalne w ujęciu długoterminowym.
Wspólnie dajmy nowo narodzonym zwierzętom wszystko to, czego potrzebują.