What stockmen need to know for chicks to thrive
Receive all our future audio articles in your mailbox
Imagine departing a cozy, if not slightly cramped, egg and immediately being faced with the handling process most chicks face on their first day. A nice warm house with good food and clean water will make you feel at home and give you a good start in life. Of course, you really hope that this good care will continue for the rest of your life. This season of Earlyfeed articles has provided a lot of information on how to give your chicks the right start with proper care and management in the first days and for later in life. Here is a recap.
Following hatching, an intensive handling procedure induces a lot of stress on young birds. By providing them with a calm environment that fits their needs, incoming birds are able to finally settle down.
To provide a healthy start for your young chicks, make sure their new house is cleaned and disinfected properly before arrival. Inappropriate cleaning will lead to infections and reduced performance. Therefore, it is important to take some time and determine the best tools and chemicals for your operation. When the house is clean you can continue the preparation of a welcoming home for chicks. Important parameters are air and ground temperature, humidity, air quality, as well as feed and water access. Equally significant, though often overlooked, are parameters like the type of bedding material, the number and height of feeders/drinkers, the distance to feed and water lines, the lighting density, and the overall hygiene in the barn.
Especially in the first days, stockmanship is an investment in the birds' health and performance. This includes early and regular observations of the overall behavior; spreading in the barn and activity provides a good impression of the constitution of your new flock. Further checks—crop filling, absorption of the yolk sac, quality of the navels, regular weighing, or the vent temperature—help to draw a complete picture of the quality of your flock. Depending on the impressions combined with the data you collect (like feed and water intake, mortality, etc.) you will be enabled to take the right measurements to steer your flock in the right direction. A digital platform can help create a benchmark of the quality of the day-old chicks and help predict future performance.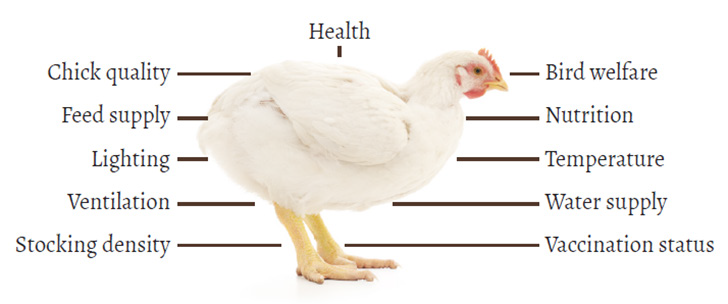 There are certain key performance indicators that help to evaluate the quality and progress of a young poultry flock. Therefore, it makes sense to track and collect these parameters and gather evidence about the development of your flock instead of guesses. The more complete and accurate the information gathered, the faster and more reliably these measurements can be taken to improve the well-being of the current flock. The combination of collected parameters can also help generate a financial profit analysis. By including financial metrics, as well as both hard and soft performance values, a full picture of costs allows reevaluation of the operation's approach. This is key to sustainable and profitable results.
Climate dependence for success
Day-old chicks are poorly equipped to regulate their metabolic processes and body temperature. As a result, they are dependent on the environmental temperature. To support your chicks right from the start, the floor, litter, and house temperature should be at optimal condition by the arrival of the chicks. For ideal performance, it is very important to provide your chicks with a comfortable climate in which the temperature, humidity, and air composition are optimally regulated during the whole cycle. The best method to monitor climate is by observing chick behavior and adapting the climate accordingly.
Water is (almost) everything
Highlighting how crucial it is for life, chickens are 70% water. Therefore, monitoring water consumption is one of the simplest and most effective tools to assess flock progress. Ensure the availability of clean drinking water for all birds. For best performance, it is important to have a sufficient amount of correctly placed drinking nipples with an adequate flow rate of clean drinking water. Regular cleaning of the waterlines is essential to promote flock health.
There is a difference between feed and feeding. Depending on the farm, the nutritional needs of the feed will change, as will the structure and method of delivery. Still, some principles are universal and include ensuring the minimum daily intake requirements are filled, as is giving day-old chicks the best start with a prestarter. When it comes to a healthy and productive flock, every day counts, especially for fast-growing birds like broilers.
Within poultry farming, there are many things of importance to note in order to understand the complete picture. Management is not only providing a clean house with a good climate, feed, and water but it is also about using your senses and steering your flock with the use of gathered data. With good stockmanship, birds have the best chance for a healthy life and to thrive. This is why Earlyfeed is here to help, right from the start.
Your Earlyfeed expert
Sacha van Dalen
Technical commercial co-worker
This contact was suggested based on the location you are browsing from. You can of course also consult our other contacts and locations here.